Littmann Electronic 3200 - from $421.75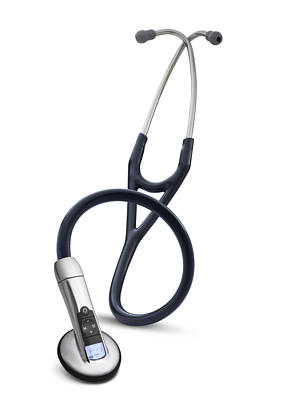 10+/10 Acoustic Performance

High Performance

Cardiology Grade

Bluetooth Connectivity

Recordable Tracks

Ambient Noise Reduction

Audio Amplification

2 year Warranty
Littmann Electronic Stethoscope Model 3200 has powerful capability and incredible simplicity and redefines what a stethoscope can do for you.
Hear it.
State-of-the-art sound sensor. Proprietary Ambient Noise Reduction (ANR) technology reduces on average 85% of unwanted background noise. Amplification capability when sounds are soft. Clinical evidence shows it's easier to detect difficult-to-hear heart sounds like S3 gallops, aortic regurgitation murmurs, as well as abnormal lung sounds. It all adds up to an exceptional listening experience - compared to acoustic scopes.
Record it.
Capture a sound for later playback. Helpful when seeking a peer opinion or when you are writing up notes on your patient's condition, after your patient has left.
Send it.
Bluetooth® technology lets you transmit sounds real-time to your PC, which can then be further analyzed, attached to medical records, or reviewed online with colleagues.
Confirm it.
Use available Zargis® Cardioscan™ software to help you detect and classify suspected heart murmurs while with your patient. Or visualize heart and lung sounds using Zargis® StethAssist™ software, included free with every 3M™ Littmann® Electronic Stethoscope Model 3200. Two great tools that can enhance the auscultation process and help you hone your skills.


order in NAVY BLUE

also available in Burgundy (special order, contact customerservice@grogans.com)

also available in Gray (special order, contact customerservice@grogans.com)